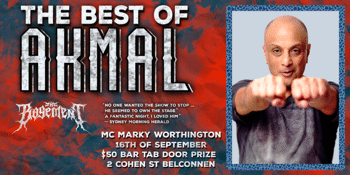 Marky Worthington Comedy and A-List Entertainment
Comedy @The Basement with Akmal Saleh
The Basement - Canberra (Belconnen, ACT)
Friday, 16 September 2022 7:00 pm
Come to Comedy at The Basement on the 16th of September to see Akmal Saleh, presented by A-List entertainment and your MC for the night Marky Worthington.

In his hugely successful career spanning twenty five years, Akmal Saleh has cemented his reputation as a comedic national treasure - and he has done this by telling a lot of jokes.

Some of them, admittedly, were better than others.

Now, for the very first time, Akmal has put together his greatest and most hilarious hits in a full hour of back-to-back bangers. The show contains the top shelf, the crème de la crème, the choicest cuts from his collection, hand selected (or cut and pasted?) by Akmal himself.

It's been a crazy journey for Akmal to reach this point. In his early days, he went by the alias Peter Saleh ('So people would think I was white,' he says). Since then he has reverted to his real name (or has he?), embraced and drawn on his Arabic heritage, his experiences immigrating to Australia at the age of eleven, and his disillusionment with religion and the modern world.

He has toured the globe many times over, including to the Edinburgh and Montreal International Comedy Festivals, as well as starred in films and TV, such as being the most reluctant guest on I'm a Celebrity, Get Me Out of Here' (he really did want to get out of there). He has authored a book about his upbringing in Egypt and experiences moving to Australia, won an ARIA award, and made countless people clutch their sides with laughter.

For fans old and new, the Best of Akmal is sure to deliver a fantastic experience jam-packed with comedy gold.

Each ticket gets you an entry into the $50 bar tab lucky door prize, announced at the end of the night. (Need to be present to win)

It is highly recommended that to avoid missing out on desired seating, after getting a ticket people going to the show call the bar on 0413 987 609 and book a table, especially if you are planning to have some amazing food from Chompy's at The Basement before the show.

See you there!!