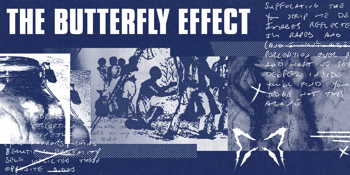 Destroy All Lines presents
The Butterfly Effect Begins Here 20th Anniversary Tour
With special guests TBC
The Basement - Canberra (Belconnen, ACT)
Sunday, 4 February 2024 7:00 PM
Legendary and much beloved Australian rockers

The Butterfly Effect

celebrate the 20th Anniversary of their landmark debut album, Begins Here!
Crashing into homes nationwide on August 3, 2003, "Begins Here" spawned four massive singles, One Second Of Insanity, Crave, Always & Beautiful Mine, appearing in the Hottest 100 across 2003/2004. The album peaked at #23 on the ARIA Album Charts, topped the Independent charts, was included in the top 10 albums of 2003 by the UK's Kerrang! Magazine and was certified Gold!
In celebration of this momentous milestone, The Butterfly Effect will be hitting the road for an Anniversary tour that takes in every capital city, including the nations'.
Canberra will bear witness to Begins Here being performed IN FULL for the first time, plus a selection of tracks from the bands killer catalogue including songs from their most recent album 2022's IV.
After a lengthy hiatus followed by a highly praised reunion back in 2018, anticipation has been ongoing and palpable for diehard and new fans alike aching to experience the Butterfly Effect live.
Their reputation as one of the all-time Australian alternative greats is backed by multiple appearances on The Big Day Out, countless laps of the country and extensive tours of Europe.
The opportunity of seeing one of the finest debut albums in Aussie heavy rock played in full, coupled with the bands established history for swiftly selling out their tours means that tickets are going be a hot item.
Do not delay!

Sign up to access the presale here:
https://daltours.cc/TBE24