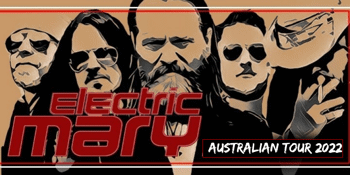 Hard Life Touring Au & Premier Artists Presents
Electric Mary
with Shotgun Mistress and Whiteford
The Basement - Canberra (Belconnen, ACT)
Thursday, 19 May 2022 7:00 pm
Electric Mary with special guests Shotgun Mistress and Whiteford

Electric Mary are a classic rock band hailing from Melbourne, Australia. The band formed in 2003 and named themselves after Mary Campbell, friend and manager of Jimi Hendrix's Electric Lady Studios in New York City.

After finalizing a lineup that understood what life looked like playing in an old school rock band, They were taken on the road as supports for Whitesnake, Judas Priest, Alice Cooper , Deep Purple and Glenn Hughes. Whitesnake called again and Europe became their destination.

In 2010 after supporting Deep Purple in Australia again the world opened up with shows in Sth Africa for the world cup, and then onto Europe for the famous Hellfest festival along with Kiss, Alice Cooper and Motorhead followed by their own headline shows.

2011 saw the band heading to New Jersey in the United States collaborating with engineer/producer Jason Corsaro on a live recording along with Headline shows across Australia, Then it was back to Europe for an extensive tour taking in France, Spain, Belgium and then over to England and Wales to perform at the Hard Rock Hell Festival in Wales.

In 2014 the band released the EP The Last Great Hope and embarked on another European tour, selling out shows in Spain and France followed by a year of more shows in Australia while continuing to write and record demo's for a new Album.

In 2016 the band discovered the lost tapes of Hell Dorado from the previous tour. It was a revelation and they quickly snapped up the services of The Machine who had previously worked with Detroit band "Clutch" to mix the album.

A tour of Europe in October 2016 started the Straight Out of Hell Dorado tour from which heralded the end of an era. Paul (Spyda) Marrett was signed up for drumming duties, and the rock'n'roll cycle started again.