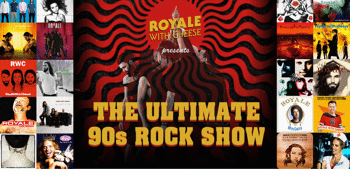 Royale with Cheese Ultimate 90s Rock Show
The Basement - Canberra (Belconnen, ACT)
Saturday, 20 January 2024 7:00 pm
Australia's premier 90s rock show, ROYALE WITH CHEESE, return to The Basement on Saturday 20 Jan 2024 with the Ultimate 90s Rock Show.
Hailing from Sydney, Royale with Cheese is AUSTRALIA'S PREMIER 90s ROCK SHOW, playing all 90s rock and pop covers – from Seattle-sound to Grunge to Britpop and all the best Oz Rock from the 90s. Royale With Cheese is not just a covers band - it's a rollicking 90s party reviving one of the greatest and most influential decades in rock music.

From Nirvana, Pearl Jam and Soundgarden to Radiohead, Blur and Oasis to Silverchair, You Am I and Screaming Jets to Red Hot Chilli Peppers, Green Day and Blink 182, Royale with Cheese magically weaves all these 90s sounds into a night that'll have you feeling nostalgic for the last great decade of rock music!

Come as you are to smash pumpkins and RAGE AGAINST THE 90s!