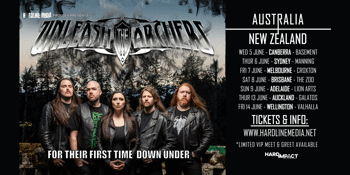 Hardline Media Presents
UNLEASH THE ARCHERS - Debut Australian Tour 2024
The Basement - Canberra (Belconnen, ACT)
Wednesday, 5 June 2024 7:00 pm
Hardline are excited to announce, for their first time in Australia, Canadian Power Metal groundbreakers
Unleash the Archers
, to tour Australia & New Zealand in 2024.
Unleash The Archers were formed in 2007 by front-woman Brittney Slayes, together with drummer Scott Buchanan, while attending the University of Victoria on Vancouver Island in British Columbia.
After moving to Vancouver in 2010 the band underwent several lineup changes, but were finally able to cement their unique, genre-blending style of Heavy Metal with the addition of Grant Truesdell, Andrew Kingsley and Nick Miller.
By weaving the aggression of the more extreme genres into the intricacies of traditional Heavy Metal, UTA have created a sound unlike anything else in the industry. They embrace a commercial appeal that attracts music lovers of all types while maintaining a heavy edge that remains true to their Death Metal roots.
Watch 'Abyss' here:
https://www.youtube.com/watch?v=1bGmjnkDTTI
Since their inception UTA have always put an emphasis on touring. COVID of course hit the breaks for the band somewhat, with Hardline and Unleash the Archers originally scheduled to announce this Aussie & NZ tour back in 2021! With touring worldwide back on the cards and a new album to be released soon - it is with great pleasure to finally declare these dates Down under with UTA in 2024.
Join us in this much-anticipated Welcome Down Under to Unleash the Archers!
LIMITED VIP MEET & GREET packages include:
- Early access to the show and merch stand
- Get a photo on your phone/device with the band
- Australian tour poster to get signed by the band
- Exclusive VIP lanyard/laminate
- Bring along 3 personal items to get signed
- VIP TICKET INCLUDES ENTRY TO THE SHOW
UNLEASH THE ARCHERS TOUR DATES - AUS & NZ 2024:
WED 5 JUNE - CANBERRA - THE BASEMENT (18+ Unless Accompanied by an Adult)
THUR 6 JUNE - SYDNEY - MANNING
FRI 7 JUNE - MELBOURNE - CROXTON
SAT 8 JUNE - BRISBANE - THE ZOO
SUN 9 JUNE - ADELAIDE - LION ARTS (Licensed, All Ages)
THUR 13 JUNE - AUCKLAND - GALATOS
FRI 14 JUNE - WELLINGTON - VALHALLA
GENERAL PUBLIC TICKETS ON SALE: TUES 31 OCTOBER @ 10AM AEST.
TICKETS AND INFO:
www.hardlinemedia.net