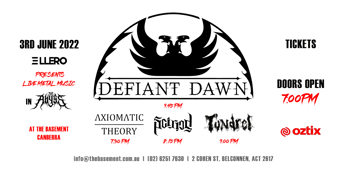 Ellero Presents
DEFIANT DAWN
with TUNDREL, SCIGOD & AXIOMATIC THEORY
The Basement - The Abyss (Belconnen, ACT)
Friday, 3 June 2022 7:00 pm
The Abyss (at The Basement) and Ellero proudly presents Defiant Dawn, the up and coming Sydney based 5-piece Metal band who will be supported by three local acts, Tundrel, Scigod & Axiomatic Theory.

On the 3rd June, Defiant Dawn will be travelling down to the Capital to bring you non-stop thrilling and highly engaging Symphonic Power Metal. Under the original name, BattleBard, the band reformed and established it's new name in March 2021 and shortly after released the well received single, "Heart Full of Sadness". With a strong history of performing over several years in both venues and at numerous festivals around Australia, such as, Mirkwood Metalfest V, WIZARDSFIRE Folk Fest, Questfest 2018 & DARKCELL's Psycho Circus Festival, Defiant Dawn are highly anticipated to continue soaring through the metal music scene as they work toward a new album in the near future. They draw inspiration from metal bands, such as, Nightwish, Kamelot, Powerwolf, Sabaton and many more.

Supporting and leading up to Defiant Dawn will be the renowned local Pyschedelic Hard Rock band, Tundrel, who reformed last year as well with a new rhythm section and released their second album, Tundrel Tomes: Vol II, following up from their previous Vol I back in 2015. Their powerful sound will inevitably draw you in as it captures the emotional experiences of tribulation and triumph. By using well-crafted layers of effects and intensities both instrumentally and vocally, Tundrel will clearly demonstrate their ability to truly generate an enjoyable atmosphere.

Scigod have only been gigging in Canberra for one month but have been described as a "Space Rock Opera" and "Impossible not to be fully engaged by their stage presence" by some of the judges at the recent Band Competition 2022: Celebrate Diversity Grand Final, organised by Milestone Entertainment. Scigod delivers a broad sound filled with guitar solos, space jazz, orchestral backings, female fronted vocals, a mysterious concept story, theatricals and plenty more surprises you won't believe unless you see. An upcoming and ambitious band, Scigod are a must see for 2022.

Axiomatic Theory are yet another incredibly talented and promising Metal band to hit the music scene in Canberra. Performing frequently throughout the Capital since 2018, the 3-piece Metal band have gained a large amount of traction since the release of their debut album, "Existential Flux" in June 2020. Impeccable tightness between each member in the band is a driving force behind their complex and unique sound, which distinguishes them from many. Keep an eye out for their two 8-string guitars as well!

DOORS OPEN: 7:00pm

SET TIMES:
7:30pm - 8:30pm | Axiomatic Theory
8:15pm - 8:45pm | Scigod
9:00pm - 9:30pm | Tundrel
9:45pm - 10:30pm | Defiant Dawn

Get your tickets while they last and join in for what will undoubtedly be an incredible display of live music and entertainment. This is also a great opportunity to support interstate artists and our emerging local artists from the expanding Capital.

The Basement is a Premier Live Music Venue and Bar dedicated to promoting live music in Canberra since 1985. From off the press artists & bands to some of the biggest touring names in the country, The Basement hosts a range of talent as well as musical styles and endeavours to provide the Capital with the music you want and love. If you're up for a night out on the pub with a large variety of food & drinks, a game of pool, or want to listen to shredding metal, electrifying dance, or raw acoustic, then this is the place for you!