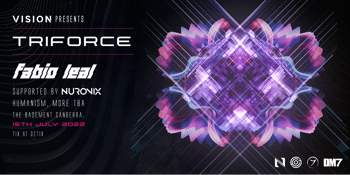 Vision Entertainment
TRIFORCE + Fabio Leal (Brazil)
Nuronix, Humanizm, Loose Cannon and Fern
The Basement - Canberra (Belconnen, ACT)
Friday, 15 July 2022 6:00 pm
Vision is back at The Basement for a Mid-Winter techno stomp with two legends of the international dance scene.
TRIFORCE
Triforce is the musical project of Charlotte Lohmann and Ryan Smith.
Ryan's background as a metal guitarist and Charlotte's long history as a vocalist/pianist has lead them to become a dynamic musical team. Creating music together and experimenting with a variety of genres for many years has lead them to form a rich musical bond, resulting in a unique sound that sits in the uncharted territory between heavy techno and dark progressive psytrance. Focusing on dark organic eastern timbres, they aim to breath rich melody and beautifully orchestrated motifs into their original productions.
Triforce have travelled across the globe to spread their unique sound playing festivals and clubs such as Boom Festival, Ozora Festival, Modem Festival, Freqs Of Nature, Lost Theory, Sisyphos, Rummels Bucht, Anomalie Art Club, S.U.N. Festival, Tree of Life, Pulsar (Brazil), Adhana Festival Warm up (Brazil), Triplicity, Parvati Peaking, Australian festivals Rainbow Serpent, Babylon, Earth Frequency, Dragon Dreaming, Psyfari, Subsonic, Rabbits Eats Lettuce and Strawberry Fields.
FABIO LEAL
Fabio was the first Brazilian invited to join Zenon Records.
With an impeccable mixing technique, Fabio believes that the combination of the creative potential of digital technologies with the wealth of analog circuitry allows him to deeply interpret all the strength of Zenon Records, all this added to elements of other musical styles such as Techno.
His peculiar style made him known throughout Brazil, with sets at big parties and festivals across the country. In addition to international tours, being invited by respected festivals such as Boom Festival (PT), Freqs of Nature (ALE), Lost Theory (ESP), Tree of Life (TUR), Rainbow Serpent (AUS), Earth Frequency (AUS), universo Paralelo (BRA), S.U.N. Festival (HUN) and many others.
Supported by:
Nuronix
Humanizm
Loose Cannon
Fern
DATE: 15th JULY 2022
THE BASEMENT CANBERRA
18+ EVENT
Sign up at
vision-ent.net
for access to Presale Tickets.
Full ticket information available soon.
We acknowledge the Traditional Custodians of the ACT, the Ngunnawal people. We acknowledge and respect their continuing culture and the contribution they make to the life of this city and this region.