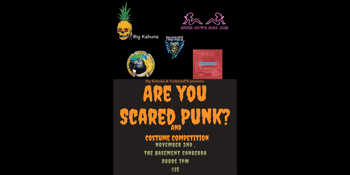 Big Kahuna & ValkyrieFX present
Are you Scared Punk?
The Basement - Canberra (Belconnen, ACT)
Saturday, 2 November 2019 7:00 pm
Come get spooky and groovy this Halloween with BIG KAHUNA - Upside Down Miss Jane - The Disappointments and Parrots with Piercings. Come and watch some great bands and bring your best costume for our costume competition presented by Canberra's own ValkyrieFX.