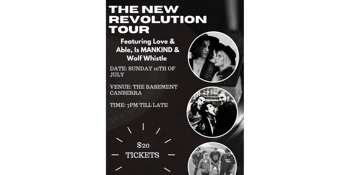 Is MANKIND Presents
Love & Able
w/ Is MANKIND and The Kilbeys
The Basement - The Abyss (Belconnen, ACT)
Sunday, 10 July 2022 7:00 PM
An exciting stop on Is MAN KIND's The New Revolution eastern tour, this three band show headed up by Love & Able has it all. A hit of rock, a dash of blues and a little tiny bit of country (thanks Love & Able).

Each of us:
Love & Able- Love & Able present a fresh, authentic sound in the realm between blues & alternative rock with a slide slash of country. Their latest incredible single "Be Gentle With My Mind" is about poisoning ones mind with negative imagery of who they are as person from doubt that others brought upon them. You need to hear it live!!!

Is MAN KIND- Is MAN KIND is a blues, folk, alt, rock, pop, and opera (joking) influenced three piece that will make you feel warm and fuzzy at times and at others make you want to do a triple backflip without spilling a drop of beer. The Doors, Jeff Buckley, Pink Floyd, Santana and Chris Isaac all decided to have a baby together. Through intense genetic modification and a little bit of freaky stuff with a petri dish, Is Man Kind found it's way into the world and now, here we are.

The Kilbeys are four piece indie/rock band with strong influences drawing from blues, funk and reggae. They have been inspired by artists such as Sticky Fingers and Led Zeppelin, incorporating it all into their own unique style.