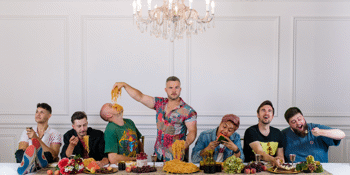 Sir Archer Presents
Sir Archer
Supports To Be Announced
The Basement - Canberra (Belconnen, ACT)
Thursday, 23 June 2022 7:00 PM
Sir Archer is bringing their excessively large band to The Basement.

Described as having "melodic, cruisy instrumentation of '80s AM radio rock", Sir Archer has been causing a stir across Sydney since the release of their first EP 'The Sauce', selling out their first-ever live show at Factory Floor in 2020. With the release of their second EP 'The Feast', they packed out rooms at both Marys Underground and The Vanguard in 2021.

This year marks the release of their latest single 'Just A Taste' which is also the first song recorded at their very own Six10 Studios.

"contemplative and reflective songwriting plus a searing guitar solo in the second half and the seven-piece alt-rock band from Sydney have created a track awash with personality as well as piercing harmonies" - Scenestr

After a hugely successful show at Waywards to launch the single, this 7-piece band with the energy of an under 10's soccer team is now ready to spread its wings out of Sydney and hit the road. A refreshingly familiar sound that reminds you of Dad's CD collection, backed by a tight and energetic live experience, you won't want to miss this!