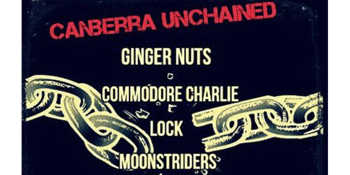 The Basement Canberra
Canberra Unchained
The Basement - Canberra (Belconnen, ACT)
Thursday, 23 July 2020 7:00 PM
Rock n' roll is making an exciting comeback with 4 original bands to perform at The Basement on 23 July.
GINGER NUTS
https://www.facebook.com/gingernutsband
Ginger Nuts are an original Rock n' Roll band from Canberra.
Featuring Patrick Galen-Mules on guitar and vocals, Nick Dennis on lead guitar, Ed Berry on the drums and Michael Galen-Mules on bass.
COMMODORE CHARLIE
https://www.facebook.com/commodorecharlie
Commodore Charlie is a 5 piece hard rock band from Wollongong/Sydney, Australia. Fiercely independent, self-produced singles 'DIY', 'Kombi' and 'Swayze' give but a taste of the wider palate of forward thinking music the boys have to offer.
LOCK
https://www.facebook.com/lockmulloz
Solo Page For The Guitarist Of The "3 BroKen Strings" & "El'Rose" Also The Owner / Founder Of "LOCK & LOAD Records"
MOONSTRIDERS
https://facebook.com/moonstriders
Moonstriders is a 4 piece garage rock band from Canberra, Australia. Influenced by the Vines, qotsa, nirvana and arctic monkeys, the band delivers an energetic live set, accompanied by over driven guitar tones and firey chord progressions 🔥
$10 entry
Doors 7pm 18 +