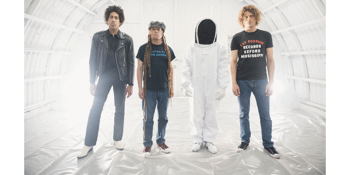 TOURism and Consume presents
OFF!
plus PARTY DOZEN & SKETCH METHOD
The Basement - Canberra (Belconnen, ACT)
Wednesday, 17 January 2024 7:00 pm
After 10 years passed they are bringing the album

Free LSD

about an alien race infiltrating humanity - touring back to Australia this January 2024.

The time has come to witness the contorted

visitation of punk psyche power - Los Angeles hardcore wonders kaleido-scrape through the interstellar hemisphere. Switch this on! It's all over the skies.
And joining this cavalcade with their own eccentricity of explosive pervasions comes Sydney's highly apt PARTY DOZEN!
Also along for this transcendent glide of power will be the big riffin' suburban punk of Whadjuk country
LAST QUOKKA
; a world of fragments and discord in Kaurana with
DIVISION
; the ferocious femme/queer power of Naarm's blistering R.U.B.; the catchy melodic simplicity of Gadigal
HELLEBORES
; the powerful whipping crack of Meanjin nerd pop punk
MITCH, PLEASE
; and the socially conscious inclusivity of Bundjalung country
MASOCHIST
on the Gold Coast. Details below.
"And then OFF! go off! Keith exudes such kinetic energy that it's always a surprise not to see him bouncing off the walls. Instead, he fizzes with barely contained electrical charges of momentum that power his music. As a counterbalance, when he's not conjuring feedback, Dimitri stalks the stage like the bastard son of Thurston Moore and Keith Richards, all slashing chords and strut." -
https://www.punknews.org/review/17861/off-live-in-london
Punk rock phenomena Keith Morris (Black Flag, Circle Jerks), Dimitri Coats (Burning Brides), Mario Rubalcaba (Hot Snakes/Rocket From The Crypt) and Autry Fulbright II (And You Will Know Us by the Trail of Dead) - strike all stages asunder as they kill to be heard.
" A warbling, laserlike noise that increases in volume before sludgy bass and speedy guitar a la Dr. Know ring out. Keith's voice has not aged one bit." https://newnoisemagazine.com/reviews/album-review-off-free-lsd/

Exploding in all dimensions at once, this punk rocket juggernaut have released their album FREE LSD with their very own feature film, as directed by Dimitri, starring the members of OFF!, Jack Black, David Yow (Jesus Lizard), Chelsea Debo, Chloe Dykstra etc… coming soon. Also latest FSLD EP out now https://offofficial.bandcamp.com/album/flsd-ep
PARTY DOZEN are a two-piece from Sydney; Kirsty on saxophone and Jonathan on drums. They make a big noise for two people, semi-improvised and incendiary. Over three albums they have perfected their sound and built a reputation as one of the best live bands in Australia, and an audience around the world. 2022 album The Real Work saw them sign to US label Temporary Residence (Mogwai, Explosions In The Sky, MONO) and let Nick Cave sing on a song ("Macca The Mutt") and billy woods rhyme on another ("Earthly Times"). Following two tours of Europe, and one each of the US, China and Japan, Party Dozen have finished recording their fourth album and have recently released first taste "Wake In Might"
OFF!'s first new album in eight years translates the work of an alien race attempting to rebuild the remains of your destroyed record collection. Free LSD hits reset like The Beatles conjuring Revolver, The Walker Brothers Nite Flights refusal to be a reunion record, or that album by Baby Huey where every influence merges so effortlessly that it is simply one sound unified. Like the first 3 records, the raging two-minute bonfires that make up Free LSD were written by the core of the band, Keith Morris & Dimitri Coats.

The album introduces new members, drummer Justin Brown (Thundercat, Flying Lotus, Herbie Hancock) and bassist Autry Fulbright II (...And You Will Know Us by the Trail of Dead), who push the idea of punk into another dimension. Coats blankets a number of these tracks with layers of electronics and Morris sounds timeless.

OFF! have never sounded better. BETTER. Sure, there are some Black Flag/Circle Jerks Morris ghosts in here, Burning Brides riffs, Thundercat calisthenics, and Trail of Dead burns, but that is just the skin of the thing. "War Above Los Angeles" is the cornerstone of the record, carrying all of the scars of where the band was before, along with otherworldly interplay by a group with phasers now set for stun. That is not to say the no nonsense 90 second furnace blasts aren't in full effect on tracks like "Kill To Be Heard," but as one of the architects of punk rock, singer Keith Morris says, "After making music for as long as I have, it was time to use a palette that includes lime green, turquoise, and magenta instead of the typical colors and shades that were involved in all of the other break neck and car chase scenarios. Miles Davis with Herbie Hancock and the Headhunters as opposed to Milo Goes to College."

The band is working on a film to accompany the record. Coats explains, "Since thinking of the album as a soundtrack to a weird sci-fi movie gave us permission to experiment, and the film explains, in a fantastical way, the creation of the album, they both go hand in hand as an overall art project." Free LSD is a build of subterranean howl that lifts off into the cosmos of Sun Ra and labelmates, The Stooges. OFF! is supercharged for takeoff in what has now been confirmed as humanity's new year zero.