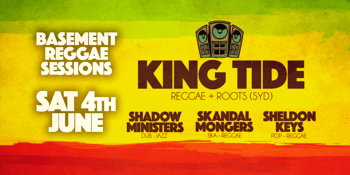 Clandestino Canberra Presents
REGGAE SESSIONS: KING TIDE (Syd) + Shadow Ministers + Skandal Mongers + Sheldon Keys
King Tide, Shadow Minsters, Skandal Mongers, Sheldon Keys
The Basement - Canberra (Belconnen, ACT)
Saturday, 4 June 2022 7:00 pm
Another ROOTS + REGGAE session of heavy bass and skanking brass! After 4 sold out sessions don't miss out on the best of local DUB + SKA plus special guests, Australian Reggae Royalty: KING TIDE from Sydney!
KING TIDE
(Syd) - Reggae Roots
SHADOW MINISTERS
- Dub Jazz
SKANDAL MONGERS
- Ska Rocksteady
SHELDON KEYS
- Reggae Pop
+
DJ Paulius
(vinyl only)
On the back of solid sessions in 2020 + 2021 - this special night will take you on a foundational journey through reggae, roots, ska dub and more! Heavy bass, deep skanking and floating melodies. PLUS CBR's best reggae selector spinning strictly vinyl ALL NIGHT!
KING TIDE
"King Tide" have appeared at just about every major music festival in the country, released their fourth album a high charting compilation of their
three previous studio albums. They have leased tracks and albums in the UK and Japan and been one of the most played rock steady reggae got soul bands on Australian radio. Jamaican music is their compass but not always their destination.
"Simply, and I have written this before. King Tide is one of the best live acts in this country"
-
Faster Louder
SHADOW MINSTERS
Shadow Ministers is a live dub/jazz quartet exploring live dub styles with a roots/jazz inflection bringing together Canberra's most versatile improvisers in a south-eastern dub style. New worlds collide in a space echo with original tunes and rare versions from this new dub juggernaut showcasing deep dub and surreal atmospheres.
Raw hot steppas and rockers beats are provided by Coolio Desgracias and Shadow Minister 3oB , while on guitar Matthew Lustri reinvents the spacious and surreal. Out front is renowned flautist and keytar aficionado Joel Dreezer. The group aims to break new ground with a few classic manoeuvres.
SKANDAL MONGERS
The Skandal Mongers are a Canberra-based ska/reggae/rockasteady band formed in 2020. Evolving from weekly instrumental jams during the wreck that was 2020, The Skandal Mongers were hyped to involve the one and only MC Tomasky as the singer and vivid frontman. Breaking out of Canberra, The Skandal Mongers are bringing classic ska and reggae vibes to the people. No matter where you are from, you better start to move your feet and be ready to raise your voice to the sounds of ska both old and new.
SHELDON KEYS
Sheldon Keys is a keyboard player, singer song writer, and musical arranger. He began playing the piano when he was 10 years old and it wasn't long before his talents were noticed. Growing up in Mauritius, his musical influences included Jazz, Country, Funk, Ballad, Pop, Blues, Soul, Reggae and RnB.