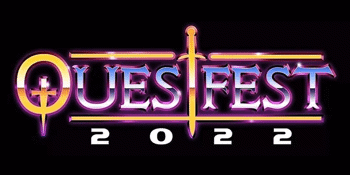 Girthsword Promotions Presents
QUESTFEST 2022
The Basement - Canberra (Belconnen, ACT)
Saturday, 9 July 2022 6:00 pm
Questfest returns for the 4th installation in 2022. Save the date July 9 2022!

Questfest is a fantasy music festival featuring a mix of bands (usually the heavier but folky and fun end of the scale) and other performers, stalls, cosplay and games! Held at the Basement in Canberra annually we host 9 acts across 2 stages with all patrons encouraged to dress up for our costume contest and enjoy the evening!

Tickets go on sale DECEMBER 1ST - Lineup announcements are made weekly from OCTOBER 1st
for any inquiries contact girthsword@gmail.com
QUESFEST IS A 9 ACT 2 STAGE EVENT, 6PM DOORS OPENING. CROWD MEMBERS HAVE BEEN ENCOURAGED TO DRESS IN COSTUMES. THIS IS THE 4TH YEAR OF THE EVENT.

18+ Only.